RCSS Nev'r Strip Grade-5 Deep Socket Titanium Screw Set for Schuur Speed Extreme V4 Motors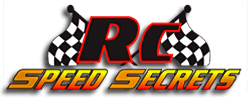 New from Rc Speed Secrets. Take your already fast Schuur Speed Extreme V4 Motor to the next level with our new RCSS Schuur Speed V4 Titanium Motor Screw Kit."
We now offer you the ability to bling out your motor starting with the "Next-Level grade 5 titanium screw kit. We also recommend you add the option to add the RC Speed Secret Next Level Ceramic Motor Bearings. We listened to our customers requests to want customize their own Reedy motors! And now you the option to purchase just the parts you need!
What makes the RC Speed Secrets "Schuur Speed V4 Motor Screw Kit Special?
1. Every set of aluminum screws we tested stripped, some sooner than others, as aluminum under heat of the motor is a very soft, yet much less expensive material than grade 5 titanium and nowhere near as durable.
Buy using Hi-Grade Titanium we've eliminated magnetic rotor interference and reduced rotational drag on the rotor with our Grade 5 Titanium Screws. The stock steel screws and ring interfere with magnetic fields in the motor, causing drag on the rotor and holding it back from its full potential. Add our proven Next-Level Hybrid Ceramic Motor Bearings, to BOOST rpm even more, and go Beast-Mode on your competition in STYLE!
New and Improved: The endbell flat head screws are now a 2.0mm socket versus the standard 1.5mm socket for increased durability.
Includes:
Screw set color choices of Bada-Bling, Blue or Stealth Black
3- Titanium Motor can screws
3- Titanium endbell screws
Compatibility:
All Schuur Speed Extreme V4 Motors
Note: If you are adding the optional RCSS "Next Level" Ceramic motor Bearings, choose the R1 Wurks Bearings as they are the same size and fit the Schuur Speed Extreme V4 Motor.