RCSS Tekno ET410 4wd Stadium Truck "Severe Duty" 3.5mm Pro-Cut Channel" Titanium Turnbuckle Set (Bada' Bling & Stealth Black Finishes)
New Tekno ET410 Truck/Truggy Turnbuckles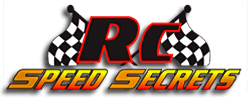 "Stand out from the crowd" (AKA: Go Beast-Mode) and take your Tekno ET410 to the "Next-Level" in STYLE with this NEW high- performance Severe Duty Pro-Cut Channeled Titanium Turnbuckle Set from RC Speed Secrets. The RC Speed Secrets Severe-Duty Turnbuckles are made of 3.5mm Grade 5 titanium offering you a turnbuckle much stronger and more durable than the stock and most after-market 3mm turnbuckle sets. You will feel more confident racing with these Severe-Duty turnbuckles from RC Speed Secrets.
Note: "We recommend drilling out the turnbuckle Rod-Ends of the Ball-Cups for easier threading of the 3.5mm turnbuckles"
Features:
Made of top-quality Grade 5 Titanium
3.5mm Diameter Super Duty Turnbuckle
Pro-Cut Channel Turnbuckle for the ULTIMATE Bling & Weight Reduction
Available in (2) finishes (Bada Bling & Stealth Black)
Includes:
Qty (6) RC Speed Secrets "Severe Duty" Pro-Cut Channel Grade 5 Titanium Turnbuckles (3.5mm Turnbuckles)
QTY (1) 1/8" Drill-Bit to drill-out you ball-cups for better fit and easier installation
Compatibility:
Additional Options:
RC Speed Secrets also offers a "Super Duty" 3mm Tekno ET410 Turnbuckle Set for those of you who are looking for a lite-weight titanium turnbuckle that you do not have to drill the rod-ends of the ball cups.
#GoBeastModeWithUs