RCSS Xray XB4 2020 Beast-Mode Severe-Duty 3.5mm Titanium Turnbuckle Set (Bada' Bling, Stealth Black)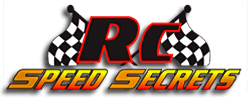 Tired of bending or snapping stock diameter 3mm dia turnbuckles? You can't win if you don't finish!! Here's your solution!!
Go Beast-Mode on your competition with these Severe-Duty 3.5 dia turnbuckles from Rc Speed Secrets and "stand out from the crowd! Take your Xray XB4 20 to the "Next-Level" in durability and STYLE with this NEW Severe-Duty 3.5 dia Grade 5 Titanium Turnbuckle Set from RC Speed Secrets.
Features:
Made of top-quality Grade 5 Titanium
Pro-Cut Channel centers for the ULTIMATE Bling & Weight Reduction
Sever-Duty 3.5mm dia for extra durability
Drill bit included to drill out your ball cups
The best quality premium finishes in the Rc Business hands down
Includes:
Qty (7) RC Speed Secrets Severe-Duty 3.5mm dia Grade 5 Titanium Turnbuckles with pro-cut centers
Drill bit for drilling out your ball cups included
Compatibility:
#GoBeastModeWithUs